Thinking Digital
The 2016 NADA convention promises to be the most digitally focused convention ever. Look for workshops that focus on enhanced digital marketing strategies, using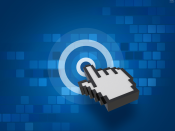 technology to improve the consumer experience, the connected car, cybersecurity, and leveraging data to improve dealer's bottom lines.
To put it in perspective, just 5 years ago, at the 2011NADA convention, the following topics dominated:
Regulatory compliance,

An introduction to social media (with a picture of a Blackberry!)

A "brand new" Online Presence Category that showed dealers how to use the Internet to interact with customers
In an interesting coincidence, the 2016 NADA convention and the2017 Consumer Electronic Show (CES) are both being held in Las Vegas less than 10 months apart. Below is a list of keynote speakers. Can you guess who will be at which convention? (Answers at the end of this post.)
Dr. Herbert Deiss, CEO Volkswagen Passenger Cars

Mary Barra, Chairman and CEO GM

Dr. Volkmar Denner, Robert Bosch GMBH

Anthony Foxx, Secretary, U.S. Department of Transportation
Getting back to this year's NADA convention, here's an overview of some leading topics.
Security
Two security focused workshops will be offered at NADA, Hacking the Automotive Industry and Data Security Breaches — A Dealership's Biggest Risk. As social media becomes more deeply integrated into the automotive retail business (removing buyer anonymity) and the connected car begins to push-out vast quantities of potentially sensitive information, cybersecurity will be a huge topic for years to come. Dealership data systems already contain a treasure trove of personally identifiable information (PII), and data thieves are always looking for new opportunities. Given the industry's persistent vulnerabilities involving data access and data transfer practices, there is plenty to be concerned about. If that wasn't enough, an even more nightmare scenario exists, one with potentially deadly consequences.
The Buyer's Journey
The in store buying experience is shifting at an ever accelerating pace and dealers are desperately trying to satisfy increasingly sophisticated buyers that want a faster and easier buying experience. Companies that can assist manufacturers and dealers in "connecting the dots" from the buyer's first stages of exploration, through engagement and ultimately the vehicle sale will be particularly busy in 2016.
Marketing and Engagement

Just check out the list of exhibitors offering lead generation, social media marketing, web development and advanced CRM offerings and it's easy to see how important digital interactions are to the continued health of the auto industry. Google will have two separate presentations on using their ad platform for maximum results. Facebook will be offering a workshop on using mobile strategies to drive sales.
The Digital Express

One doesn't have to look hard to see how each of the above topics are intertwined. Digital trends are pulling the automotive industry in new directions and it will be interesting to see how future conventions will adapt in supporting these changes. The very look and feel of future conventions may have to change to accommodate not only more digital savvy buyers, but the dealers that serve them.
*So who will be speaking at which convention?*
Sorry, trick question. All of the keynote speakers listed above will be at the 2017 Consumer Electronic Show! For a list of 2016 NADA keynote speakers, click here. If you still weren't sure how much the automotive industry has been digitized in the past 5 years, there's your proof.