Today, we're excited to announce some significant new enhancements to our Motive Integrator Testing Suite. Three new apps have been added as core testing components, each specifically focused on Certification Testing.
DSP Certification Testing App: Presents certification test cases, testing status, testing results and the submission of test cases all from a single interface. It supports automated evaluation of test cases to provide DSP users instantaneous responses on test cases.
Certification Test Status App: Designed for our automaker clients, it keeps track of testing across all systems and DSPs, providing graphical and detailed status of the number of test cases submitted, passed, remaining and % complete.
Test Case Review App: Enables results to be recorded during end-to-end testing in live QA environments between DSPs and automakers. This App can be used by our clients or by the Motive team as part of our Managed Services
With these enhancements, the Motive Integrator Testing Suite is now able to support all phases of testing for dealer system integration projects with an unprecedented level of automation.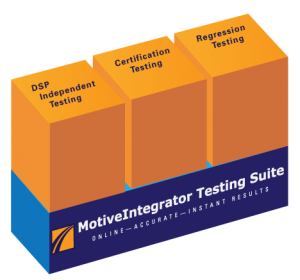 The Motive Integrator Testing Suite automates and streamlines testing to save time and reduce costs for both OEMs and DSPs. Fast, clear and complete feedback is available during all testing phases.
All Apps were designed with input from key DSPs and our clients. Volkswagen Group of America and Porsche Cars North America will be using the Motive Integrator Testing Suite for managing all testing of their new interfaces later this summer.
Contact us for a demonstration or visit us on www.motiveretail.com.